K9Aromatherapy
All Natural Handcrafted Essential Oil Blends for Dogs
& the people who love them
Calm | Train | Heal | Protect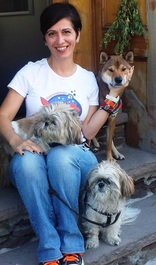 K9Aromatherapy products are handcrafted safe essential oil blends made for dogs and the people who love them. Our K9Drops help to naturally promote calm, as well to aid healing physical and emotional wounds. These blends are ideal for humans or dogs experiencing mild anxiety or stress. Originally developed for my personal use I quickly realized the benefit to reactive dogs I worked with professionally and introduced them for use with my behavior modification training clients. These unique K9Aromatherapy blends are useful for desensitizing dogs to some of their "scary monsters". For some the scary monster is a visit to the groomer, or the vet, a trip and stay in a hotel or because of your absence from home.
Best results when we combine behavior modification training with products that help to reduce stress however you may use these products on their own just to help chill. Please know w
hen you buy our products you are directly affecting a shelter dogs life. A portion of our products is donated to dogs awaiting their forever home in shelters.
As always we welcome questions and if you wish to order call 617-464-1005
Thank you,
​Vivian Zottola
---
Considerations: while our products are natural and safe for dogs please do not use these products on cats, birds or other animals other than intended. Rosemary essential oil is used as a preservative in some of our products. If your dog suffers from seizures speak with your vet before using products. Read considerations page on this site. We do not use Birch, Anise or Clove essential oils in our products.
NatureNose..the best remedies are grown by their mother, Earth.
---